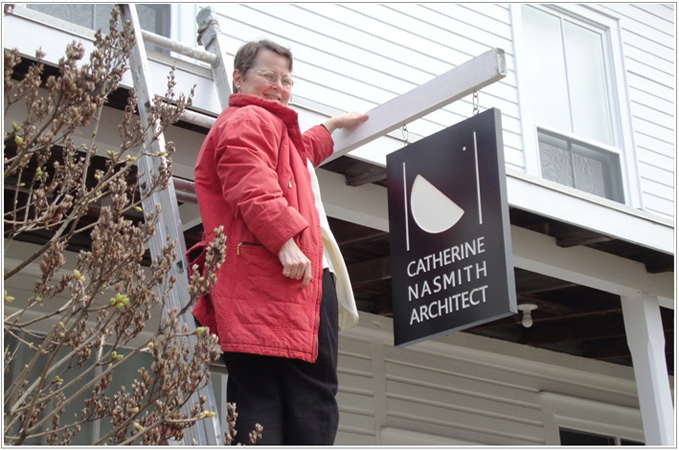 Catherine Nasmith Architect
catherine nasmith architect
Catherine Nasmith Architect is a sole proprietorship specializing in heritage rehabilitation, planning, advocacy and research. She also enjoys working with clients on private residences and other small scale projects. Catherine works from offices in Toronto and Muskoka.
Catherine has spent her career at the forefront of Canadian urbanism, with a particular interest in traditional urban form. Recently completed projects include the Alton Mill for Seaton Group, an adaptive re-use of a derelict stone mill for arts purposes. She has completed Heritage Conservation District Studies and Plans for Harbord Village Phase I and II, Riverdale Phase I. In progress are HCD plans for Madison Avenue and Fort York. She is frequently invited to speak on heritage topics to a wide range of professional and non-professional audiences.
Catherine Nasmith Architect is the publisher of e-journal, Built Heritage News, and writes for many other publications.
NEW PROJECTS
Conversion of an existing bulding at 450 Pape to Condominium units, including the former designated structure, The William Harris House, also known as Cranfield Manor.
Facade restoration at 519 Queen Street West in progress now!! One of the first of the new City of Toronto Commercial Heritage Tax Rebate Program
Window Restoration Project at 68 Kendal Avenue
NEWS
| | | |
| --- | --- | --- |
| | | .@cnarch's talk on reconceptualizing #mainstreet as an old growth forest was super thought provoking! Think about it! #NTConf |
NOW Magazine: Feature Article "New Ideas Need Old Buildings"
CBC Metro Morning Interview: Re: Stollery's demolition
Invited to Speak in Ottawa to Heritage Ottawa/NCC event: Feb 19, 20 Heritage Protection for Traditional Ways of Life
Main Street as Old Growth Forest: Delivered this talk to the AGM of Toronto branch of ACO January 20.
Panel, Be Open to the Possibilities: Future of Stratford's GTR Train Sheds: I was pleased to participate in a panel discussion of options to preserve and redevelop this 19 acre site in downtown Stratford. Stratford Beacon Herald report
Panel on 40 Years of Heritage in Toronto: I was pleased to be part of a panel discussing impact of 40 years of heritage preservation in Toronto, to celebrate 40 years of Heritage Toronto Awards : Torontoist Report
Crossan/Zimmer Cottage published in Muskoka Magazine. April Edition. If you are interested in reading about it, happy to mail you a copy.
Bill 20, Rosario Marchese's Private Members Bill to Free Toronto from the OMB. I gave a presentation to the Standing Committee regarding this bill. Quoted in Hansard, video here.
Ward 27 City Builder's Award to Ontario Capital Precinct Working Group for public education resulting in an Toronto Official Plan Amendment to protect views of Queen's Park. OCPWG has representatives from CORRA, and several residents organizations. dtah/University of Toronto Centre for Landscape Research created the imaging necessary to attract public attention.
Quoted in Toronto Star, Feb 1, 2014, "Preserving the physical fabric isn't just a question of preserving the architect's work. It's preserving the activities that are possible because of it." Catherine Nasmith, Toronto Architect
Media Report on Recent Presentation of "Main Streets as Old Growth Forests"
Catherine Nasmith has been awarded the Queen's Diamond Jubillee Medal for work in Ontario Heritage, the ceremony takes place January 25, 2013.
I am proud to have been elected Governor for Ontario to the Heritage Canada Board of Governors. I look forward to working with colleagues from across Canada on issues that affect us all.
An Interview in Spacing on the Mirvish Gehry Proposal:
In which I make the case that we shouldn't have to destroy usable building stock to get a new project, no matter how great the architect, and list some precedents where the City has been able to re-direct development to other locations.